Melbourne: a dynamic vegetarian scene
Published: 20/08/2015 12:00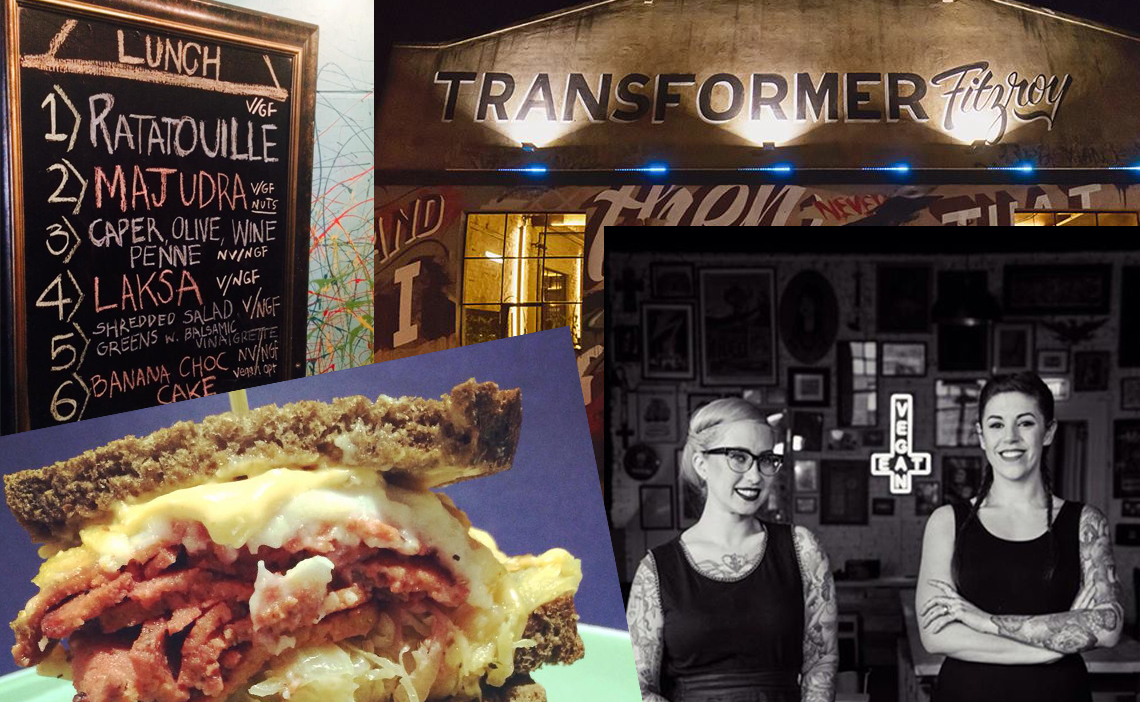 A new wave of Melbourne are proving that vegetarian cuisine can be creative, ambitious and intense. Sweeping away clichés of mushroom risotto or tofu-spinach salad, the young chefs ignore all conventions while keeping flavour firmly at the centre of the plate.
The Vegie Bar

Opened in 1988, the Vegie is one of the top local vegetarian restaurants and is a Melbournian institution. Unmissable, which as usual means reserving in advance or else kicking your heels in the queue. It's well worth the trouble: you can expect generous portions for quite reasonable prices (for Australia, that is). Try their delicious vegetarian pizzas or mushrooms with tofu and feta cheese, served with chutney (the stuffed mushrooms are served on their caps). And be sure not to miss their curry samosas with tzatziki. A must for vegetarians and carnivores alike!

Transformer

Twenty-seven years after embarking on their vegetarian adventure, the owners of the Vegie Bar opened Transformer, a restaurant with a more refined, simple atmosphere and more sophisticated cuisine. Here, a more carnivore-based experience is the order of the day, but the emphasis rests firmly centred on vegetables, which become the real hero of the plate. Much more than vegetarian cuisine, it's more about great cuisine of any type:  inventive, colourful and explosively flavoured. It's a bit expensive for a veggie restaurant, but go on, treat yourself!

Smith & Daughters

A real rock'n'roll atmosphere here. Posters of groups on the walls, neon crosses, and tattooed waiters with piercings, all accompanied with punk music...this restaurant shows than veganism can be fun! The menu features a Mexican and Spanish-influenced cuisine where the meat and seafood produce are replaced by vegetable proteins, in particular using a mix of tofu and konjac root (a plant with its origins in south-east Asia). With an outstanding result: the substitutes come very close to tasting like meat. Smith & Daughters doesn't offer light vegetarian dishes such as salad and tofu, but full-bodied meals rich in sauce, full-bodied and flavourful. Overall: delicious, creative cuisine, even if slightly lacking in sophistication.

Smith & Deli

Smith & Deli is the new adventure of the two girls behind Smith & Daughters, and it's always filled to the rafters. At the weekend a 20 meter queue forms in front of the brick facade of this popular new vegan greasy spoon. The decor is somewhat retro, New York corner store style - the kind of place where you pick up your groceries as you're coming home from work - but above all a place where people enjoy a quick bite or lunch. No kale juice to be seen, but rather inviting vitrines displaying a rich variety of croissants, doughnuts, bagels and sandwiches. A sure-fire winner: the Little Havana (Cuban ham, turkey, mozzarella, cheddar), the Free Willy (tuna and lettuce) and above all the Reubenstein (pastrami, sauerkraut, gherkin and Russian dressing). Naturally, all non-vegan ingredients (such as cheese or meat) are substituted with a vegetable-protein based alternative, just like in Smith & Daughters.

Lentil as Anything

This non-profit vegetarian restaurant has an innovative payment system: "Pay as you feel", i.e. pay as much as you want at the end of your meal. In this way a homeless person, a hipster or a trader can all eat their fill, contributing as much as they can afford. As a guide, you should pay a minimum of 15 dollars per meal. It has been a generally successful concept, in spite of some people taking unfair advantage of it. An example of this occurred is February 2015, where the Abbotsford restaurant lost 4,000 dollars in one evening after serving 1,500 people who had just participated in the Rainbow Serpent Festival. The revellers left an average of just 2.75 dollars per person. This scandalous behaviour shocked Melbourne and elicited indignant reactions, none stronger than the article Stop stealing food from Lentil as Anything, you huge jerks. Asides from this isolated incident, this restaurant, nestled in the Abbotsford convent, is an oasis of tranquillity on the banks of the Yarra. It's set up like a self-service, so you bring your plate and pick and choose among the various dishes. It's not exactly haute-cuisine, but it's honest, nourishing and the menu varies often. Lentil as anything, a Melbournian institution, has just opened three new establishments in addition to its three founding restaurants (one of which is in Sydney). Healthy eating, a pleasant location and the opportunity to do some good in the world all at the same time: a real recipe for success.

 

Ceres

A café, but also a market, a park, a farm, a garden centre and an educational centre, where you can learn the principles of permaculture or even how to repair your bike. Located twenty minutes north of Melbourne city centre (readily accessible by bus, tram or bike), Ceres is a relaxing, welcoming venue. In terms of cuisine, nothing too revolutionary, but rather a traditional vegetarian menu. The nice thing is that you eat on-site produce – everything that you are served was harvested a few meters away. And that's well worth a few minutes on the tram!

Lord of the Fries

Yup, in Melbourne even junk food has joined the vegan party. Lord of the fries is an Australian vegan fast food chain. Its outlets are open late (until 10 p.m. usually) and it's quite tasty. Here you'll find all the fast food staples: French fries, onion rings, burgers and hot dogs, all vegan versions, of course. I've given you the Fitzroy address but there are others too.