South East Asia in 10 beers
Published: 04/09/2015 12:00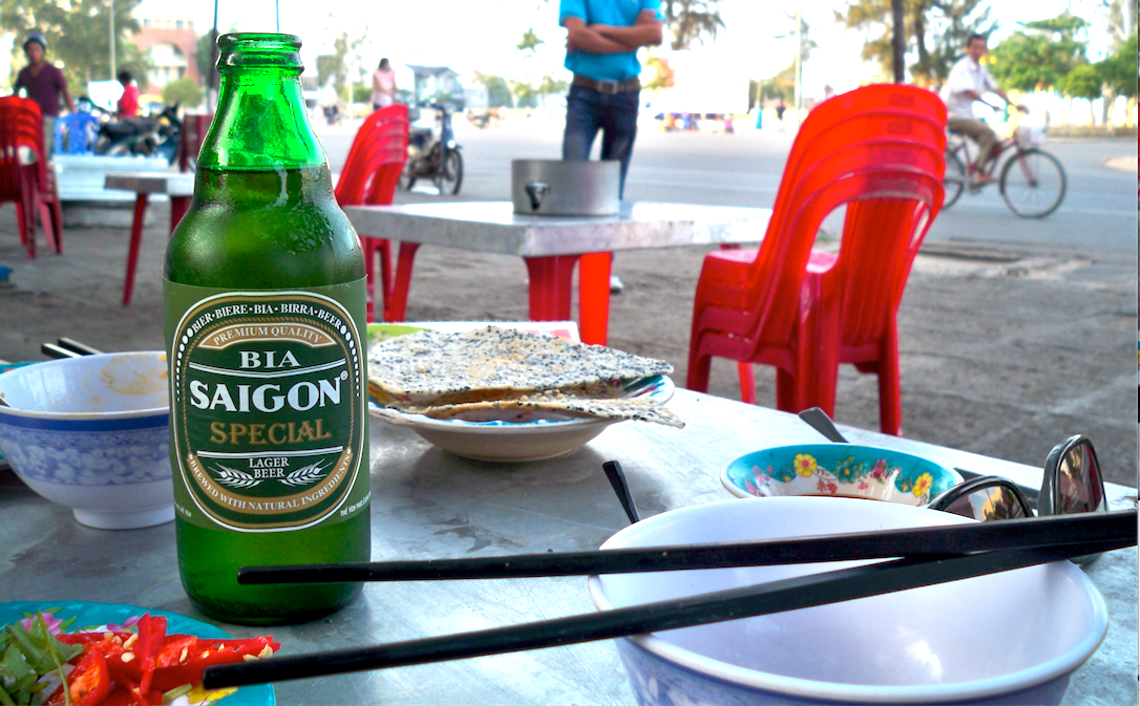 Every country has its local beer, mostly light lager beer. By the way, it's often a good idea to specify that you prefer your suds cold! 
Two drinks seem to be pretty much universal: Coca-Cola and beer. The first is the symbol of homogenization, while the second comes in local shapes and forms. It's not often mentioned, but in Asia, beer is the drink par excellence. It's not always drunk cold, one reason being that many families don't own a fridge. Little history lesson: beer arrived in Asia through the efforts of the Germans, who brought along their brewing equipment. Asia's most famous beer, Tsingtao, was invented by these brewing kings. No real taste epiphanies can be expected. The local beers I tried tended to be light, refreshing and cheap lagers.
A Kirin in Tokyo, Japan

There are four major beer brands in Japan: Asahi, Kirin, Sapporo and Suntory. Each one is as light as the others. Kirin is known among football fans, as the brand has been a long-time sponsor of a bizarre football competition, where the particpants are either clubs or national teams .

A Yanjing in Hong Kong, China

Yanjing Beer is produced by the last state brewery of the People's Republic of China. Less well-known in Europe than Tsingtao, it's primarily exported to North America, Japan and Australia. According to Radio86, it's the favourite beer of Chinese women!

A Cambodia in Cambodia

In Cambodia, the alternative to Angkor beer is Cambodia beer. I paid 4,000 riels (about eighty cents) for this can at the Banana bar in Sen Monorom. In an effort to catch up with its bigger brother beer, the brand really goes all-out with kitsch advertising campaigns!

A Bia Hà Nôi in the train Sapa-Hanoi, Vietnam

The train connecting Sapa to Hanoi is an overnight one, even though only 300km separates the two cities. In the dining car, where the conductors and the cooks end their day talking at the rhythm of the train, you can buy a Bia Hà Nôi for 20,000 dongs (about 80 cents). Strangely, it has a rather metallic taste.

A Bia 333 Export in Vietnam

The 333 Export which is found in Vietnam is not a counterfeit, but the successor of the 33 Export which is popular in France.

A Bia Saigon in Mui Ne, Vietnam

A little Vietnamese street restaurant where you can sample cooked crabs while lounging on plastic mini-chairs. No crab-crackers here, you crunch through its shell with your teeth. This uncarbonated beer provides welcome relief from the burning summer sun. A beer to be drunk, not savoured.

A Mandalay Strong Ale in Burma (Myanmar)

At the end of the nineteenth century, the English converted an arms factory in Burma's second largest city into a brewery. Today, an amber beer with a slight taste of honey is brewed there…see, Asian beers aren't only lagers!

A Beerlao in Pakse, Laos

Beerlao is an Asian institution. It is equally present in glasses and on the t-shirts sold on the touristy street of Kao San Road in Thaïlande. For more adventurous types, it is sometimes enjoyed with grilled crickets as an aperitif in Laos.

A LiQ Beer in Guilin, China

I paid 15 yuans for one of these, in this small restaurant in Guilin. This photo is the only memory I have of it. I'd describe it as a rather light lager beer; the bottle has an original shape!

A Snow Beer in Chengdu, China

Fun fact: Snow Beer is one of the most consumed beers in the world, even though it's only sold in China!