The meat lover's dream combination
Published: 31/05/2016 16:47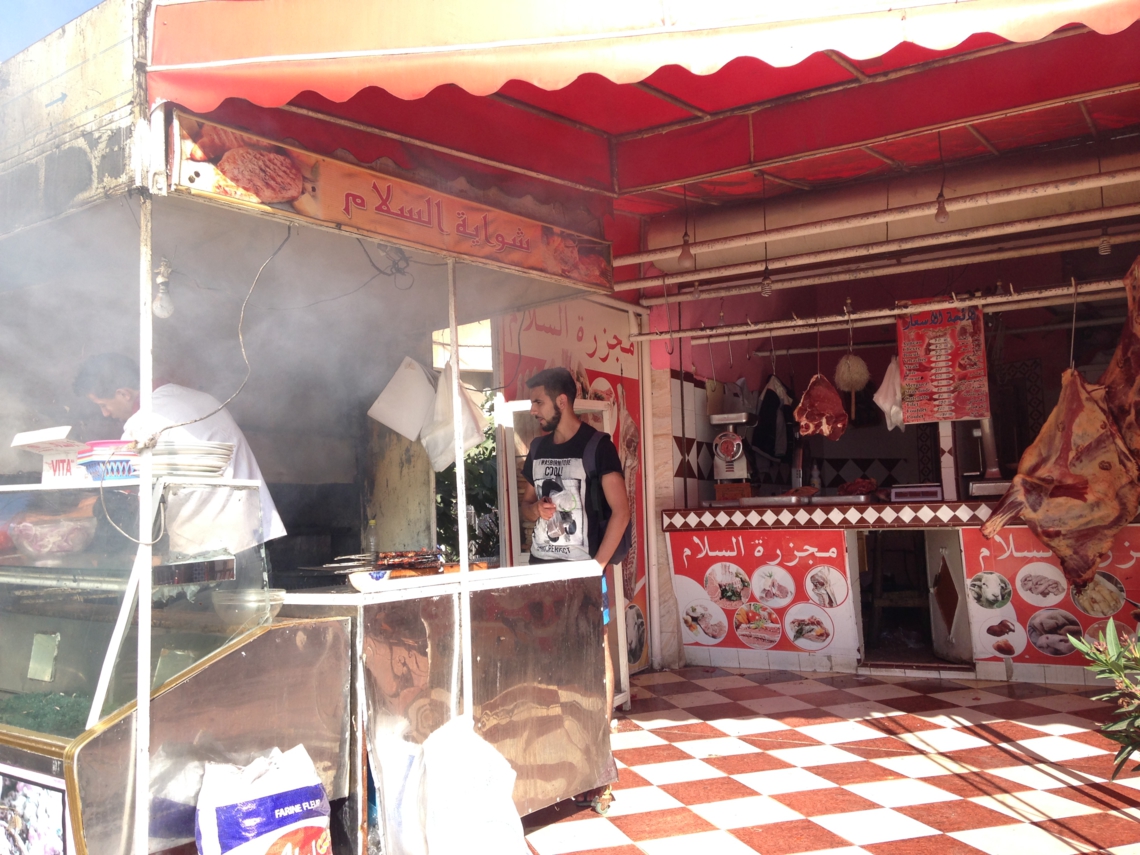 Who's never dreamed of installing a smoking barbecue right outside their butcher's? The most gourmet ideas are often the best!
In Morocco, it's a common practise to bring your own food and pay for it to be barbecued. In the port of Essaouira, you can buy your catch of the day at the fishermen's stalls.
From sardines to scabbard fish, you negotiate the price of your seafood and then bring it to one of the stalls at the entrance to the port.
The prices are very clearly displayed at the entrance.
For avid red meat eaters, you'll have to travel a little further from the medina (old town) to participate in a good barbecue. No machines to be seen in these mini-butcher shops (except for minced meat), and no fridge either! 
The butcher carves the meat of the day, and nothing else (!) with a knife. In good butcher's shops, there's nothing left over. So be sure to arrive on time on busy days.
We paid 47 dirhams (about 4 euros) for 500 grams of lamb, and 20 dirhams (slightly less than 2 euros) for 200 grams of kofta. In Morocco, you'll often be asked (especially for tagines): "Meat or chicken?" Don't have a heart attack, vegetarians - chickens are indeed animals, but the word "meat" is used here in a generic sense to designate lamb, highly popular in the Maghreb region. We paid the butcher before placing our meat on the waiting stall for the grill. Charcoal crackled behind it in a long barbecue.
A smoky charcoal barbecue, fresh meat and some vegetables, all perfectly seasoned with salt and cumin - now there's a concept to bring home with you!
While waiting for the grill, we sat a little further away. We paid for the drinks and at the same time we paid to sit apart!  
For three people with drinks included we paid a total of 130 dirhams (30 dirhams for three soft drinks, 45 dirhams for the barbecue and 57 dirhams for the meat). So a little more than 4 euros per person for succulent, well-seasoned meat and "khbobz dial smida" (semolina bread).
OUR VERDICT
We only talked about one stand, but this butcher/barbecue concept is very poular in Morocco. If the meat looks tasty, don't hesitate to enjoy lamb cutlets at a modest price!